Reading this when 📖 I'm supposed to be doing the math.
The Distance Between Us by Kasie West. The book is interesting but not as good as the fill-in boyfriend. But never was disappointed by her books so far.
Description:
Money can't buy a good first impression.
Seventeen-year-old Caymen Meyers learned early that the rich are not to be trusted. And after years of studying them from behind the cash register of her mom's porcelain-doll shop, she has seen nothing to prove otherwise. Enter Xander Spence—he's tall, handsome, and oozing rich. Despite his charming ways and the fact that he seems to be one of the first people who actually gets her, she's smart enough to know his interest won't last. Because if there's one thing she's learned from her mother's warnings, it's that the rich have a short attention span. But just when Xander's loyalty and attentiveness are about to convince Caymen that being rich isn't a character flaw, she finds out that money is a much bigger part of their relationship than she'd ever realized. With so many obstacles standing in their way, can she close the distance between them?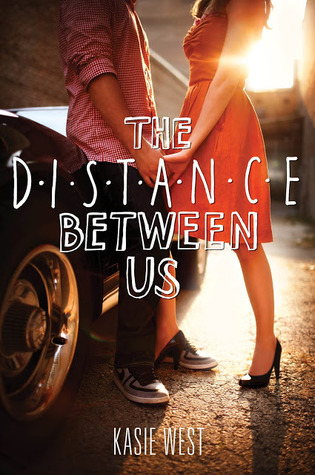 Book Review:
The Distance Between Us is actually a good book Caymen and Xander (by the way I hate that name) Alex was better to fit in my own opinion. But the storyline was interesting, I already knew they both were going to end up with each other. Also, I understand why Caymen was upset with her mother for keeping secrets about her family. They were out there struggling whereas her mom (well there family was actually rich). The Robert guy was actually a perk I didn't understand his hate for Caymen, he probably wasn't even Xander friend only was using him for who he was. I cannot wait to read the other books by Kasie West. The books I read by her so far was very good.
Paperback, 312 pages
Published July 2nd, 2013 by HarperTeen
ISBN: 0062235656 (ISBN13: 9780062235657)
Edition Language: English
Characters: Caymen Meyers, Xander Spence
Other Editions (20)