Currently-reading, Heartless–
January 1, 2018 – page 200
40.16%.
I'm on page 200 of 498 of Heartless
— 1 hour, 19 min ago — update status _____ @winterrenshaw > this book is really good! Plan to get the next book in this series including the Rixten series? (I believe that's the name)
Book Review:
Not even Heartless just crash that need fixing 
This book was really good.
I was not disappointed, I'm glad that he finally told that ex of his off.
Spoilers….
And to find out that the journal wasn't his but his best friend? Wow, that is crazy I know he was hurt by that of what his fiancé and best friend was doing behind his back was terrible.
Not sure how you can forgive someone for that. Plus I assume that the journal was his just like aidy did. And him (Ace) and his siblings has some weird names that not to hasty since they are Italian and I didn't understand any Italian language they were speaking.
Also, I can't wait to read part 2 to this series, because I believe part 2 is of Ace ex best friend and Aidy best friend if it was ooohh lalaala I need that next.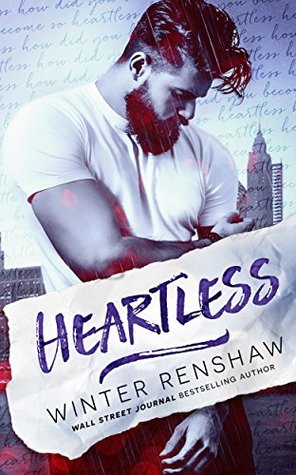 Book Description:
My obsession was born of innocence and good intentions, and it began the day I spotted a handwritten journal lying in the bushes outside a townhouse on Lexington Avenue. It was raining sideways that morning, and my plan was to return it the next day; safe and dry.
Only I kept it.
I kept it, and I read it.
A week later, overwhelmed with curiosity and feeling guilty for harboring secrets that didn't belong to me, I tried to return it.
Only I wasn't expecting to meet him.
Unapologetically heartless and enigmatically sexy, he claims he knows nothing about the journal I found outside his place, but the reticent glint in his blue-green gaze tells me otherwise.
There's something different about him; something damaged yet magical, and I'm drawn to him; pulled into his orbit.
There's just one problem.
The more I get to know him, the more I'm positive the journal belonged to him . . .
. . . and the more I find myself hoping, selfishly, that I'm wrong.
AUTHOR'S NOTE: This is a *full-length* standalone romance. For a *very limited* time, the eBook version of Heartless will include a FREE copy of VEGAS BABY, as well as a small sneak, peek of my next book!
---
Okay boy I see you 👀
---
💯💯📖📱
---
💯🤷‍♀️
---
Lord, I cannot read Italian and I'm with Topaz. Myself needs a translator too.
---
Kindle Edition, 498 pages
Published August 1st, 2016