Finally finished off this series well part of the series since I gotta read 4 more minus the one that isn't out yet
Book Review:
Preppy [Part 1]
Okay, part one was actually good, but I wanted to get to the part that I really wanted to read. When he came back from the dead (more so from the dungeon that Bears dead had him in) and had everybody thinking he was DEAD. However, on the real; I wonder who was that lady that he was talking to; it's a possibility that it could've been Bears mother! Who actually knows! However, you could tell that Preppy was in LOVE with her and her in LOVE with him. However, I hope he doesn't forget his friends or whatever! I'm a be tight if he isn't his funny self! Plus he let Bear hit, but I still think Bear should let Preppy hit Ti… I mean it would be a good option since he knows what his lady looks like. However, I still want to know how in the world could they hear Preppy when he wasn't even DEAD!
Preppy [Part 2]
Part two is what I been waiting for part 1 could've been skip, to be honest, it wasn't really needed when it could've been in part two. Like the two books before Preppy story! I wasn't really a fan of part 1… Part 2 was better because Preppy was alive, and I was big mad that he was "dead," but in actuality, he was actually alive. However, was in hand an of the cunt ball "Chop" also I still wanted to know who the woman he was talking to in the tunnel of hell he was in; at first I was like Maybe it was Dre, then I realize it had to be Bear mom!
Also, his friends expected him to be himself, but I understood why he was the way he was especially the hell he had been through with Chop! Bear and Preppy out of the THREE went through hell and back with torture from evil ass people.
Preppy [Part 3]
The part was felt like a drag maybe because I was over part 2 by then lol! I was tired of reading the story wishing it was only two. However, I liked part 2 and 3 of Preppy story. Especially when they rid of both their enemies, plus they ended up with Bo and more. I wished the author make a story with the kids but knowing who their parents are it probably have murder and sex in it. Especially with Bo… I wonder if his real name is Bo like mmm…Kay? However, I liked Bo that ax trips me out every time, especially how he runs away and or end up in places he doesn't suppose to be, and he's only six years old.
---
😂😂😂😂😂😂💀 I'm so weak omg #drdre #snoopdogg …. I love books that can have me laughing none stop ….. Dr. Dre and sibling snoop 💀 …. so Dr. Dre, you strung out … 🤣🤣
---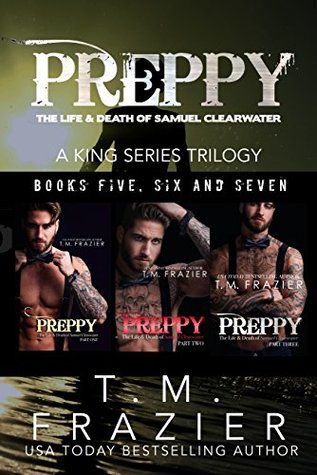 Book Description: 
All three parts of Preppy, The Life & Death of Samuel Clearwater in one book.
Books 5,6 & 7 of The King Series.
Preppy: The Life & Death of Samuel Clearwater, Part One (King #5)
Samuel Clearwater, A.K.A Preppy, likes bowties, pancakes, suspenders, good friends, good times, good drugs, and a good f*ck.
He s worked his way out from beneath a hellish childhood and is living the life he s always imagined for himself. When he meets a girl, a junkie on the verge of ending it all, he s torn between his feelings for her and the crippling fear that she could be the one to end the life he loves.
Andrea Dre Capulet is strung out and tired.
Tired of living for her next fix. Tired of doing things that make her stomach turn. Tired of looking in the mirror at the reflection of the person she s become. Just when she decides to end it all, she meets a man who will change the course of both their lives forever.
And their deaths.
For most people, death is the end of their story.
For Preppy and Dre, death was only the beginning.
Preppy: The Life & Death of Samuel Clearwater, Part Two (King #6)
Preppy finds himself back in a world he once loved, but no longer recognizes. His dim smile can't hide his inner turmoil and the people he views as family all suddenly feel like polite strangers.
Except for one person. A girl with dark eyes and even darker hair.
A girl who isn't even an option.
At least, not anymore.
Dre can't decide who she's going to listen to. Her heart, her head, or her body. Because two out of those three things have her heading right back to Logan's Beach. Closure is what she tells herself she's seeking, but when she unlocks doors that were never meant to be opened she soon discovers that when it comes to Samuel Clearwater, closure might NEVER be an option.
This is book six in the King Series and the second part of Preppy and Dre's story.
Preppy: The Life & Death of Samuel Clearwater, Part Three (King #7)
The bowtie is BACK!
Dre was just a beautiful stranger when Preppy saved her the first time around. Now, he has to save her again, but she's no longer some stranger, she's family, and he has no idea who or what he's up against.
What he does know is that putting his family back together is the only acceptable outcome.
Preppy's to-do list?
SAVE FAMILY. SEEK REVENGE.
He's alive…and he's out for BLOOD.
Preppy Part Three is the third book and conclusion of Preppy and Dre's story. It's also the 7th book in the King Series, which should be read in order starting with KING & TYRANT.
---
Preppy, The Life & Death of Samuel Clearwater: A King Series Trilogy (Books 5,6 & 7)

by

 T.M. Frazier

 
---
He about to f*** that cricket 🦗 up 😂😂😂💀poor little cricket 🦗 he didn't stand the chance 💀